"One's destination is never a place, but a new way of seeing things."

- Henry Miller
I had the privilege of sitting down with our founder and chief designer, Mitch Brean, to talk about his recent trip to Bhutan and Jaipur, India. Mitch spoke excitedly about the many sights he saw during his trip that stirred his design imagination. After all, traveling is what continues to fuel Mitch's creative fire for new design ideas. "It may be a texture, color, or element of a building that motivates me to create a custom design," he explained to me. "This design could end up being a new texture for a planter collection or an element of a mantel such as a leg or shelf, or it could be a color that influences a new finish or finish technique." In this post, Mitch shares just a few of the images from his travels that inspired him as both artist and designer.
Finding Inspiration on a Cliffside "Tiger's Nest" in Bhutan

Paro Taktsang Monastery, also known as the "Tiger's Nest," is an ancient Buddhist temple located on a cliff in the Himalayan mountains of Bhutan. This stone temple, built in the 17th century, is a wonder of ancient history and architecture, and a treasure trove to the artist's eye. Natural details sculpted the landscape, like the rivulets of stone that seemed to stream down the side of the mountain, giving it a thoughtfully "carved" appearance that Mitch could appreciate as a sculptor.
A modern Bhutanese tower bore resemblance to the ancient Tiger's Nest temple. A wide band of red cloaked the top, and was offset by trefoil-shaped inlays featuring paintings of ancient gods. The intricately carved and painted wood blocks jutting out in perfect symmetry sparked visions of future planter designs with similar proportional and textural interest.
Discovering Sculptural Details in an Ancient Indian Palace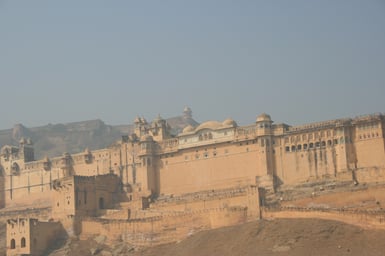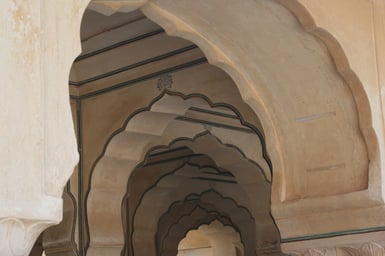 The Amber Fort in Rajasthan, India, is an ancient palace that was built in the 16th century as a place for Indian royalty. Roaming through this grand structure made of red sandstone, white marble, and green quartzite, there were so many interesting colors, shapes, and textures to catch Mitch's eye and inspire his imagination.
Hand-carved colonnaded arches took on a strikingly stacked appearance from this perspective in the palace's Diwan-i-Aam, or public audience hall. In this centuries-old hall, surrounded by beautiful alabaster, floral glass inlays, and smooth marble latticework, people would gather and await an audience with the king. And the soft, scalloped edging of the arches they waited under gave rise to new mantel designs for Mitch.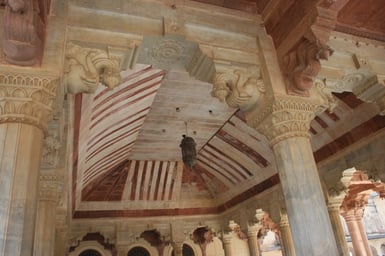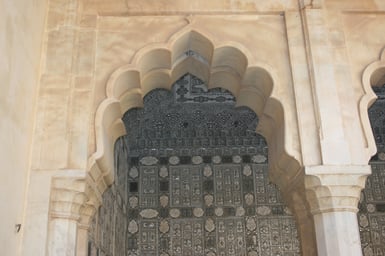 The delicate red sandstone and white marble of the striated Diwan-i-Aam ceiling canopied over forty hand-carved marble pillars. Images of the Stone Yard's Fluted Pedestal and Colosso Capital came to MItch's mind as he took in this awe-inspiring sight.
A marble archway provided a glance into the Sheesh Mahal (Hall of Mirrors). Said to have been built by the Raja for his queen, who loved sleeping under the stars, the mirrored interior wall is said to reflect thousands of twinkling lights from the flame of just one candle. The hand-etched floral motifs and paintings made on each glass panel reflected an artist's deliberate attention to detail that was much appreciated by Mitch.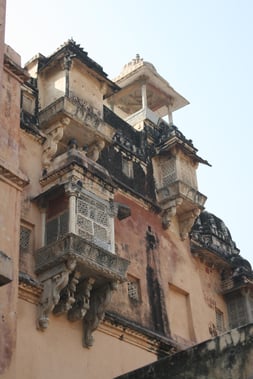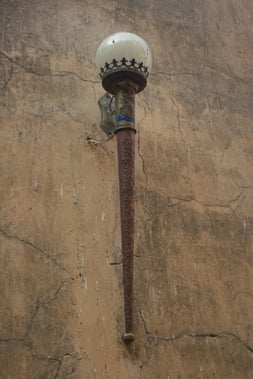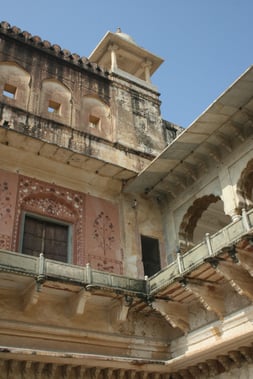 Birds perched on a balcony, surrounded by age-old sculptural scrollwork and a mosaic of lattices adorning the outer temple walls. The natural aging of the stone is what created the varying color combinations on the stone walls, bringing to Mitch's mind some new hues to add to Stone Yard's unique finishes. He also noted the flourishing details on the balcony scrollwork for new table base shapes.
A gold sconce with careful leaf detailing stood as sentinel on the sandstone temple wall, ready to light the path ahead, as it once did for ancient Indian kings and queens. The slim silhouette of this centuries-old fixture calls to mind shapes seen in modern design, which is why it caught Mitch's eye. Could there be new lighting designs like this in Stone Yard's future? You'll just have to wait and see.
Forming New Finishes from Nature's Patterns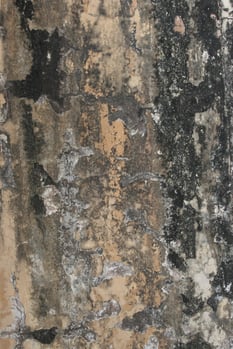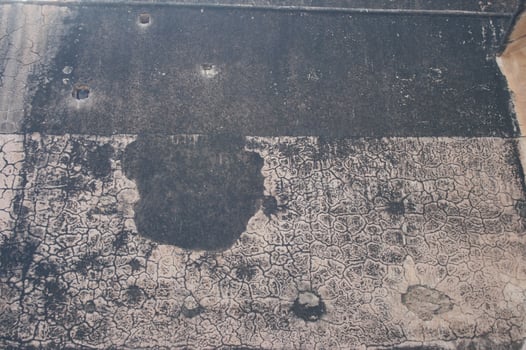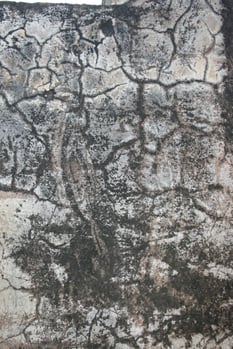 Water acted as painter over time, casting these colors and patterns on the stone temple walls. The resulting raw sienna, black, and cream amalgam of colors are some of Mitch's favorites. "I like to paint, and those are the exact colors I always use," said Mitch regarding these artistically water-stained walls. In fact, he says that you will "absolutely" see some of these colors as finishes on your favorite Stone Yard designs in the near future.

---
"Travel provides inspiration and presents new design elements that serve as fodder for innovation,"
Mitch said of his time in India and Bhutan. Not only did his travels feed his wanderlust, but they shaped his artistic vision for future designs.
Wondering what's coming down the pike for new Stone Yard designs and finishes?
Subscribe to our newsletter, at the top of this page, and follow us on Instagram for inspiration and exclusive looks at our newest designs!