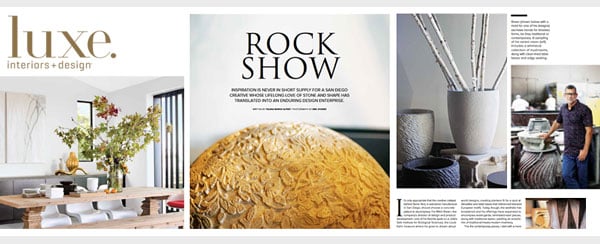 Looking to be inspired? Our founder, Mitch Brean, sat down with our friends over at premier design magazine Luxe Interiors + Design to reveal what sparks his design process--and some of his muses may surprise you.
See What's Behind Stone Yard's One-of-a-Kind Designs
"It's only appropriate that the creative catalyst behind Stone Yard, a cast-stone manufacturer in San Diego, should choose a concrete palace to decompress. For Mitch Brean—the company's director of design and product development—one of his favorite spots is La Jolla's Salk Institute for Biological Sciences, the Louis Kahn treasure where he goes to dream about design." Read more of Mitch's interview with Luxe Magazine.
Mitch brings a refreshing mix of influences to Stone Yard's designs. His love of innovation can be seen in all of our materials and handcrafted creations—from the rustic beauty and intricate detail of the GRANADA SPHERE to the surprising and dramatic edges of the RAVI TABLE BASE. With a design personality that is all at once elegant and avant garde, Mitch enjoys finding new ways to bring seemingly disparate shapes and textures together in unique and usable pieces.
Meet Mitch, Your Design Partner
Since Mitch Brean founded Stone Yard in 1985, his understanding of what Luxe describes as "traditional meets modern" design has gained him a trusted following of trade professionals seeking innovative, custom-made, one-of-a-kind furnishings for exclusive design projects.

What designs do you dream about?
If you can dream it, Mitch and our team of expert designers, sculptors, and artisans can create it. In fact, collaborating with fellow visionaries is what fuels our creative fire! Set up a custom design consultation today; we would love to collaborate with you on your next project!

Thank you to Luxe for featuring Mitch and thank you to all the interior designers, landscape architects, architects, hospitality designers, and trade professionals who have inspired Mitch and Stone Yard's designs for 32 years!