Modern and multifaceted, Stone Yard's new Iluze table design is all at once straightforward and elusive. Its pattern presents as pure geometry, yet it gives the impression that it has a few tricks up its sleeve that may surprise you. I sat down with Stone Yard designer Mitch Brean to find out why our newest table design is more than meets the eye.
Walk me through the inspiration behind the Iluze.
I've always been fascinated by the cube patterns drawn by [M.C.] Escher, the ones where you can't tell which lines are going in and which are coming out. I've always loved them and have sketched them since I was a kid. And so the Iluze's design is based on that same premise: it's an optical illusion where you can't tell if the apexes of the pyramids are advancing or receding.
What do you love most about this new table design?
The shadows and optical illusions that the shapes create. And the look of it changes depending on where the light hits it, and depending on the finish.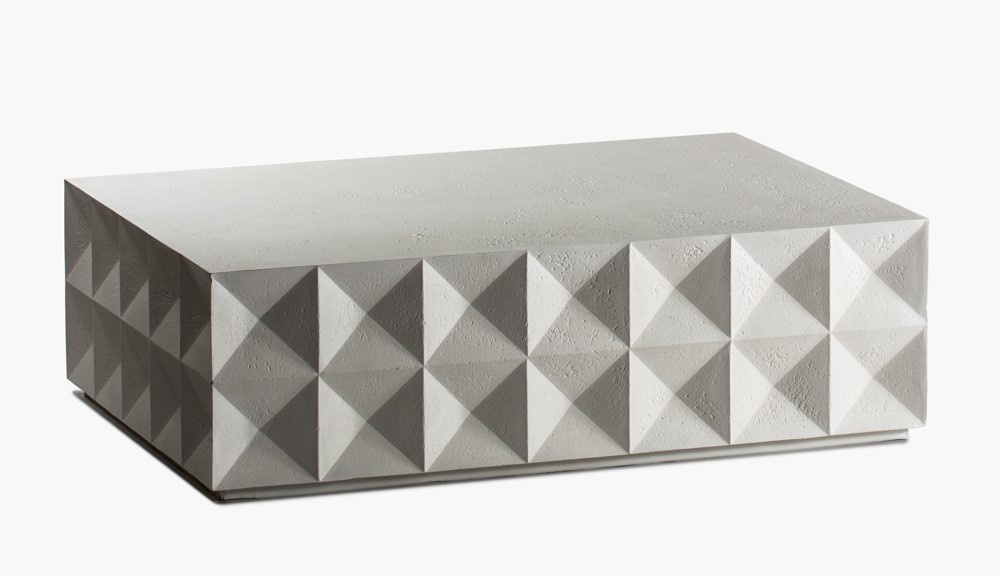 When you started, did you have a clear picture of the design or did it evolve?
It evolved over time. It almost always happens like that. If you saw my sketches, you'd see 20 different versions, where I just keep changing and tweaking until it was finished. For example, I started with more of an irregular pyramid pattern, where I had the apexes of the pyramids offset and randomly placed. But then I changed it to a simpler repeat pattern. And it actually started out as a design for a table top, but then I thought, 'This would be a cool, three-dimensional pattern for a base.'
Was it always the plan to use inverted pyramids?
Yes, I wanted the pyramids to be inverted because I've almost always seen regular pyramid patterns, and the inverted pattern seemed a little more unusual.
Tell us a little bit about the handcrafting process for this piece.
Each inverted pyramid is lightly distressed by hand, giving it an aged limestone look. This process, along with the hand-painted finish, is really what makes each table unique.
Speaking of finishes, how do they change the look of this piece?
I think each finish has the potential of giving this piece such a different character. Chalk would make for a clean, contemporary look. Oxido would give it a more industrial feel, like it was built out of steel and left to rust into this gorgeous, rich color. A finish like Chenza would make it look wonderfully aged and realistically stone-like. Zinc would add another layer of visual interest with its greenish tint. I think just about any of our finishes would work beautifully, and would give the piece its own unique play of light and shadow.
What about SyGlos?
Absolutely. I think the geometric pattern of the Iluze lends itself well to a high-gloss finish, but it really depends on the design vision. This is a very versatile piece that can be used in traditional, modern, or transitional spaces.
How would you style the Iluze in a space you were designing?
For me personally, I tend to like things kind of eclectic. I rarely like everything to be contemporary or traditional—I like the mix. So I would have the Iluze made in our Chalk finish for a real contemporary look, and then offset it with some traditional lounge chairs and an overstuffed leather sofa.
What other Stone Yard designs would complement the Iluze?
Well, I would love to expand this design to include other pieces, like seating options and maybe a side table, making it more of a collection. And, like most of our furnishings, any of these pieces would work well indoors or outdoors.
How Will You Style Your Iluze?
Love Mitch's new table design? Need it in a specific size, finish, or other custom option?