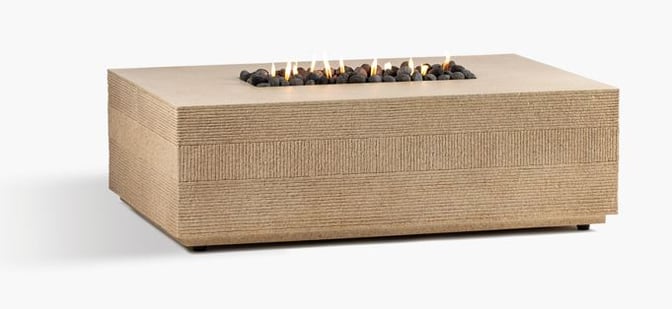 Make a fire feature the centerpiece of your modern outdoor space with our streamlined Zaragoza Fire Table. Here are some features that make it easy to customize it to fit your space, for a piece made to elevate the fireside experience.
Part Table, Part Fire Feature.
At a perfect height for relaxing next to the fire, the Zaragoza Fire Table has a low profile that is nevertheless high enough to use as both fire and functional table while entertaining or relaxing. Linear rows of flames emerge from the middle of the table, while the outer edges are smooth surfaces for setting cocktails, hot cups of coffee, and other outdoor living essentials.
Hand-Carved Texture
Our experienced team includes skilled craftsmen who have a long history of carving intricate details in stone and stone-like materials, like GFRC and Fiberstone. Our Zaragoza Fire Table uses our popular Zaragoza pattern (as part of the collection) to bring a sense of the old world into the modern age. The strategically placed vertical and horizontal lines on this stone-like fire table brings to mind the artifacts uncovered from ancient civilizations. This pattern coupled with the sleek, low profile of the table, makes it unique in modern furnishings.
Finish Options
Like all of our customizable furnishings, the Zaragoza Fire Table is available in any one of our fourteen finishes. Each finish is hand-applied in layers by our in-house artisans, so no two fire tables look exactly the same, ensuring that your fire feature is truly one-of-a-kind in a world of mass-produced furnishings.
Fire Toppings
Top your fire with ultra-modern, decorative fire glass in the color of your choice, or choose tumbled lava stones as your fire table accessories.
Customize it
As with all of our pieces, the Zaragoza Fire Table is completely customizable in size, design, and finish. Available in both natural gas and propane, a remote starter option is also offered for creating instant flames at the push of a button.