Nothing lights the creative fire like working with other artists on projects you both love. And Stone Yard's founder and head designer Mitch Brean cherishes the collaborative relationships he's fostered over the years with designers and trade professionals. For nearly three decades, Mitch and the Stone Yard team have been privileged to work with San Diego interior designer, Barbara Grigsby, on countless custom projects. In the following Q&A session, Barbara discusses what brings her joy as a designer, and why she loves coming to Stone Yard with her craziest ideas.

Meet Barbara Grigsby
Barbara is an established high-end interior designer based out of Rancho Santa Fe, California, and longtime client and friend of Stone Yard. For over 30 years, Barbara has been designing luxury home interiors, and has garnished a reputation both locally and internationally for her signature warm yet refined style.
---
"Whether it's a 20,000 or a 10,000-square foot house, I'm designing, I'm still going to give it a homey feel. A softness. A feeling of 'You're welcome here, come in.'" - Barbara Grigsby
---
What made you become an interior designer?
Well, when I was six years old, I wanted to be a dress designer. I studied and lived art in pretty much every format from an early age. And it just progressed. I loved fashion, and continued on with that for a while. Later, I moved to San Francisco and started studying under an accomplished interior designer, and then became ASID and CCIDC certified and started in commercial design for huge restaurants. And then I realized that I loved the finer qualities, the personalization, and the individuality of designing homes.
What's your favorite thing about collaborating with Mitch and Stone Yard?
Mitch has always been so incredible for me as a source and an inspiration—his ability to interpret and create as a designer is amazing. I love working with him because he is by far the most thoughtful person I've ever worked with. In fact, if you asked me what the first two adjectives I'd use to describe Mitch would be, I'd say "authentic" and "thoughtful." And the third would be "endearing."
We have worked together between 25-30 years and there hasn't been a project I've taken where I haven't tried to use Stone Yard products. I always know I can go to Mitch with my craziest ideas, and he'll just respond with, "Hmmm…I'll see what I can come up with."
Can you tell me about a collaborative project you've worked on recently?
We recently worked on this gorgeous buffet for a transitional/contemporary dining room. It had to back up to a sofa, so we made it with a lip on the back. That way, if there was a spill, it wouldn't run down the sofa. And Mitch just nailed it—he designed exactly what I wanted. He does that every time.
Explore some of our collaborative projects!

What is your favorite thing about Stone Yard furnishings?
Something I've learned, and something I think Stone Yard achieves in all their pieces, not just the seating, is this: I like to keep it simple, and I like to keep it pretty and in good taste. And everything that Stone Yard does is simple and well done, tasteful, and appropriate in so many different settings.
What do you feel are the most important rules in interior design?
I don't think there are many set rules you should follow in design. I think you limit yourself if you do. That said, I do believe in continuity. It's important that a house has a rhythm to it. When you enter all the way through to when you exit, it should have this sense. You should be able to feel the presence of your clients throughout, and the design should be a reflection of them.
What are some of your favorite Stone Yard pieces?
Oh there are so many. Let's see, the Pomegranate Mirror, Rustic Bench, Roman Pond Planter (featured below), Fungo mushrooms, Granada Sphere and all the spheres, and the Manhattan and Rocher tables.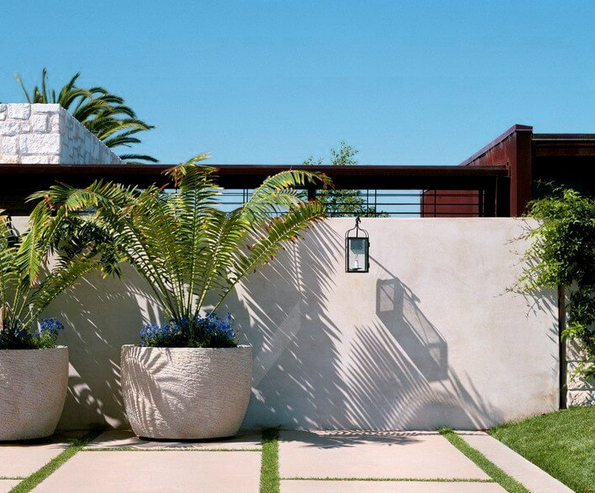 Speaking of favorite things, what are some of your most prized possessions?
My antique bulldog. He's made out of papier-mâché and has a horsehair collar. He's a collector's piece, a "growler." He has a string that you pull on and he opens his mouth and makes a growling noise, and you see all his teeth; it's a crackup.
There are different stories about growlers, and they're really rare now. Supposedly they were once a gift that fathers would give to their daughters for warding off suitors.
What brings you the most joy in your work?
I love the beginning and the end of a project the most. I love getting to know the clients, and all the excitement and positive energy. And since I do my installations as a whole, my clients get the "wow factor" of walking in and seeing their entire house fully done.
Also, I'm such a detail-oriented person and I love catering to my clients. Often, I'll go so far as restocking their pantry with treats they like, monogrammed towels and robes, fresh flowers, their favorite wine chilling—little personal details like that to make them feel at home.
What would be your dream design project?
I would love to design a custom, high-end home up in the wine country. I love Northern California; I love the pines, and the style and architecture of the homes. It's like a different world up there.
Do you have a design trademark, something that says, "Barbara designed this space"?
Many of my clients have described my style as "homey." And I think that's true. Even if it's a 20,000-square foot house I'm designing, I'm still going to give it a sense of softness, a feeling that says, "You're welcome here, come in."
The truth is, though, no one can walk into a project of mine and say, "Barbara Grigsby did this." All of my designs are client-driven. People have to live with what they come home to, so I like to take into account my client's needs, lifestyle, and preferences and build from there.
Where do you get your inspiration for your designs?
Well, it starts with the client. Usually it will be something they say, something they show me, something they're fond of. It could be an architectural piece, a color—anything. It's often something small that morphs, and I start layering upon that.
Want to Collaborate with Us?
Have an idea for your next design project? Mitch and his expert team of designers and artisans will work with you to bring it to life!