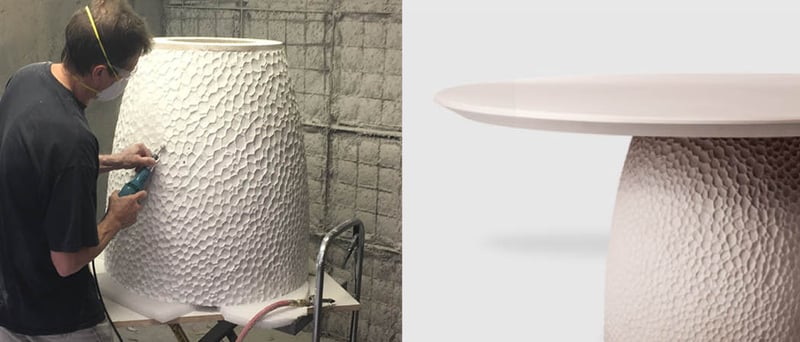 With interesting textures and artistic details as top design trends this year, the Bollé dining table base perfectly encompasses both sentiments. The patterned style of this stone table base, with its textured surface made of irregular bubble shapes, has been hand carved by our stone artisans as one of our latest dining room tables in a series of sculptural furniture-turned-art. In this post, we invite you to follow the Bollé creation process from start to finish and see how each fine detail gets translated into the finished piece. This process reflects our mission here at Stone Yard: to create one-of-a-kind furnishings synonymous with luxury, excellence, and craftsmanship—unparalleled designs, made by expert artisans, using superior quality materials.
The Creative Process – a New Dining Table Base Emerges

As one of Stone Yard's newest dining table bases, the making of the Bollé began the way most creative endeavors do. With a smooth dining table base surface as their canvas, Mitch and his design team here at Stone Yard started playing around with new patterns, hand carving and sculpting until the lovely, intricate details of the Bollé began to emerge. It is the bubbled, honeycomb-like pattern of this artful dining table base that inspired its name, which is the Italian word for "bubbles."
Crafting the Model, Making the Mold
Once this first iteration of the Bollé stone table base was finished, the design team had the model from which they could make their mold. The mold-making process occurs in our Tooling department, where a mold is created for each distinctive, handcrafted design in our contemporary concrete furniture line. This process ensures that every piece made retains the same artistic quality and consistent detailing as the original.
Fine-Tuning the Fiberstone Pieces
At Stone Yard, we use innovative materials that are lightweight, functional, and beautiful in the creation of all our handcrafted furnishings. For the Bollé, GFRC and Fiberstone are two material options for crafting this modern stone table base. When made of Fiberstone, with its stone-like look and feel and lighter-than-stone construct, the piece (while still in the mold) will move to the Fiberstone department next, where a fiberglass composite will be carefully applied in two thin layers, giving it a final, flawless texture on its outer surface. It is this process, along with other, proprietary processes, that makes the Stone Yard name celebrated by trade professionals for high-quality designs.
Hand-Finishing to Preserve Each Unique Detail
Every Stone Yard piece is unique because, when it is made, there may be imperfections caused by the separation process of the mold and the finished piece. Imperfections in the piece are re-sculpted by expert artisans and craftsmen. In the case of the Bollé, this means that each irregularly shaped impression that makes this stone table base unique is perfectly finished.
Hand-Painting the Finish in Intricate Layers
The final touch in the making of the Bollé dining table base takes place in the Finishing department, where one of our unique finishes is hand applied to it in a series of layers. This delicate process takes both artistry and skill to accomplish, since the technique used is tailored to, and therefore different for, each piece. In the case of the Bollé stone table base, with its ornate and variegated texture, the right hand-painting technique is crucial in maintaining its beauty.
At Stone Yard, we have a team of experienced finishers who know their craft well, giving them a balanced approach to the work—and one that creates consistently beautiful, hand-painted pieces.
Adding a Custom Table Top
All of our table tops are handcrafted out of durable GFRC, Fiberstone, SyGlos, or wood materials. Each table top is made to order and customized with size, shape, and edge details chosen by the client to match their design intent.
Take a Peek Inside the Stone Yard Studio
Contact us today to find out more about our handcrafted process and to request a quote.