"When I travel, it's all about the adventure," head designer at Stone Yard, Mitch Brean, begins our conversation. "So I plan things as little as possible and let things happen."
In his most recent trip to Africa, which included visits to seven different African countries, Mitch did find adventure—and inspiration—at every turn. Explore with him in this blog post, as he relives some of his favorite moments through stories and images.
Making a Life-Changing Visit to Mozambique
The white-sand coastline and turquoise water draws tourists to the East African country of Mozambique, but for Mitch, it was the people. And since Mozambique is considered one of the world's most underdeveloped areas, for most of those people, access to the basics are limited. "We decided to have our own drive for school supplies," Mitch says. "Last summer, we had a party and asked people to bring school supplies, because they knew what we were planning." The plan? To distribute much-needed school supplies to a local school. "We ended up with four giant suitcases that weighed 70 lbs. each! All filled with backpacks, pens, pencils, rulers, crayons—you name it!"
They contacted the US embassy in Mozambique, and were put in touch with a local, who drove them to a remote village a few hours away from the capital, Maputo. "When we arrived," says Mitch, "there was a big tree in the middle of the settlement, and all the kids and teachers were waiting for us under the tree. The school was right next to that, a little stick building. And the elders of the little village each stood up and gave a speech thanking us, and then they decided they wanted to distribute the items to the kids right there, so they had them line up. When they handed the items to the kids, you could see in their faces that they were all thrilled. It was pretty touching," Mitch recalls, smiling.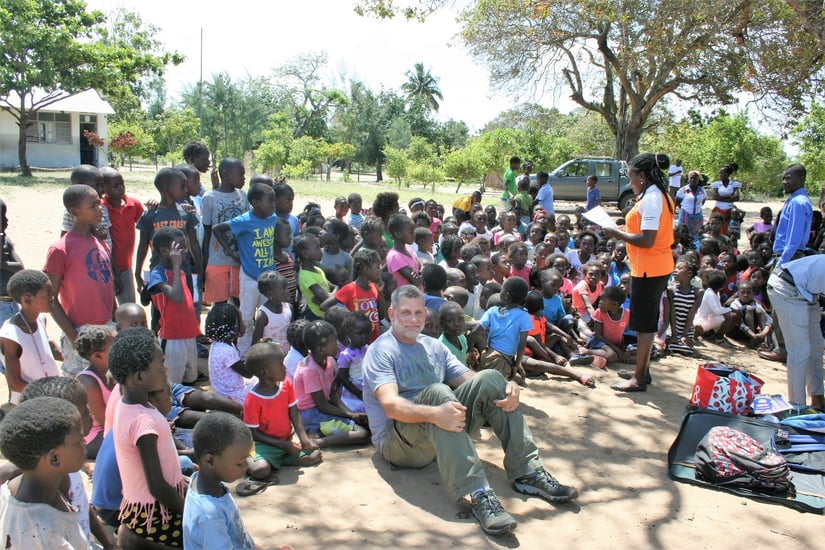 "We were there the whole day, and they made a special lunch for us. They even killed a chicken! And when we were leaving, they begged us to come back and see them again, so we're definitely thinking about it. This whole trip was inspiring, but it was really these kids that inspired me most."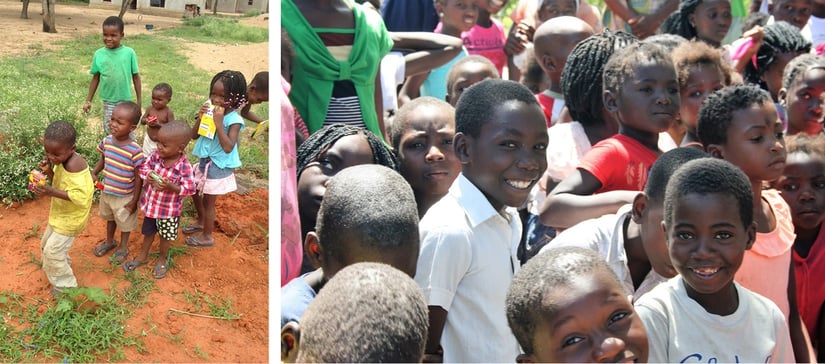 ---
"I took lots of pictures of the children, and they really inspired me as a painter. I'm going to paint them and auction the paintings off and use the funds to buy more school supplies."
---
Driving and Enjoying the Architecture in Cape Town
From Mozambique, Mitch found his way to South Africa. They stopped briefly in Johannesburg before moving to Cape Town, where they spent the day at the beach. "It was gorgeous, the white sand and these beautiful, huge boulders on the beach. Really incredible," Mitch recounted.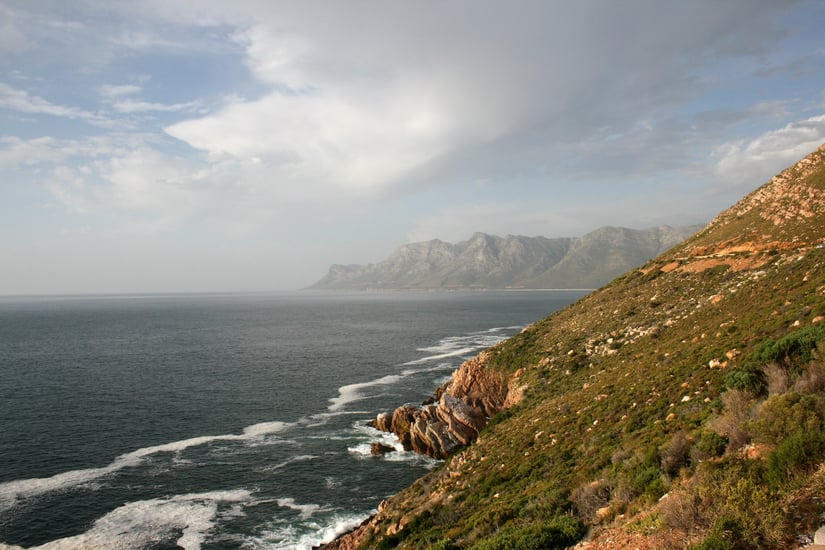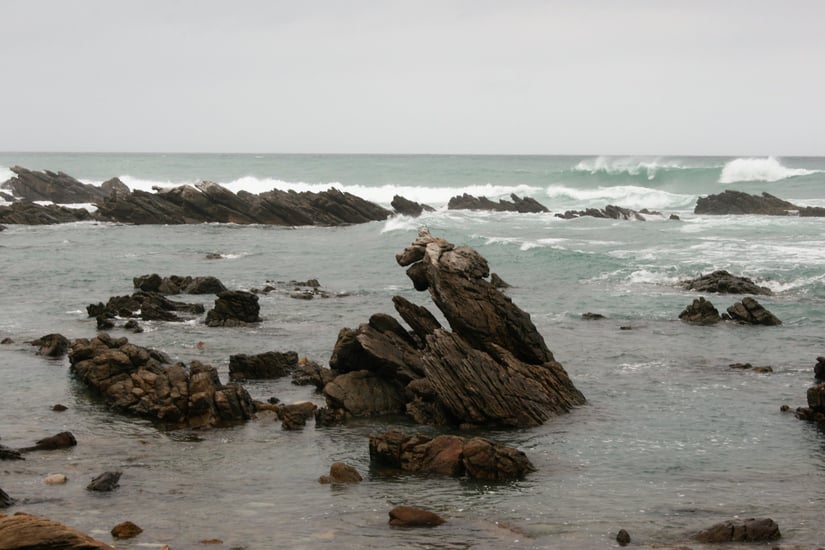 "We rented a car there," Mitch continues. "It was my first time driving on the opposite side of the road. It was very strange. First you feel like you're going to side swipe something, but then you get used to it pretty quickly. You have to learn quickly, because Cape Town is very busy!" But driving on the opposite side of the street wasn't the only thing to get used to, says Mitch. "They tell you to lock your cars there, because the baboons have learned to open car doors and they steal things."
Mitch enjoyed watching the local wildlife, numbered among them penguins and rock hyraxes or "dassies," as the locals referred to them (small creatures reminiscent of groundhogs, but more closely related to elephants).
After a day at the beach, Mitch decided to check out the local artwork, and among his favorite finds were some traditional, hand-carved African masks, one of which had a texture similar to the Zaragoza pattern. He was also struck by the local architecture of Cape Town. "It looked like it had almost a Dutch influence, with these beautiful, whitewashed buildings with thatched roofs," Mitch recounts. "They had such a pleasing style to them, very rustic."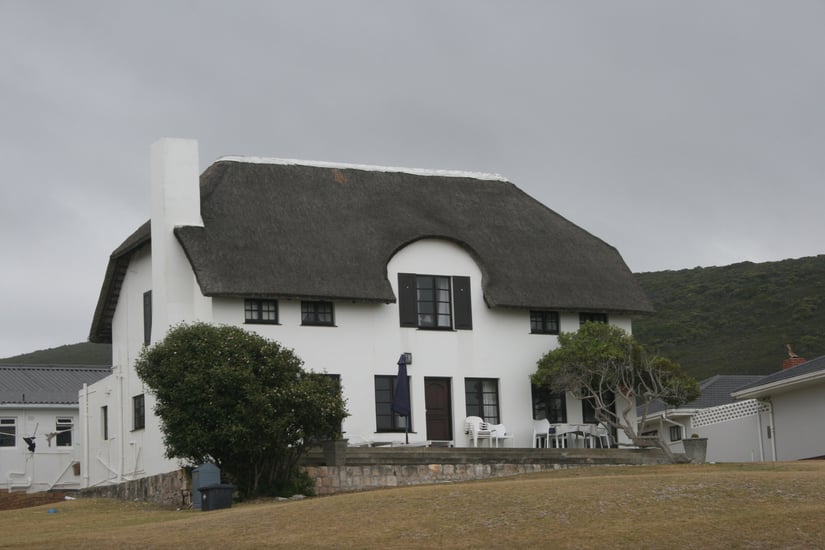 Climbing One of the World's Highest Sand Dunes in Namibia
"I think that the biggest inspiration on this trip, at least design-wise, came from the desert in Namibia," Mitch says, reflecting on his time in Sossusvlei National Park, which is home of the world's largest sand dunes. They climbed "Big Daddy," a colossal sand dune with a height of 1,066 ft. and marveled at their surroundings. "When the sun hits the ridges of the dunes, one side is lit while the other lies in darkness. It's really remarkable."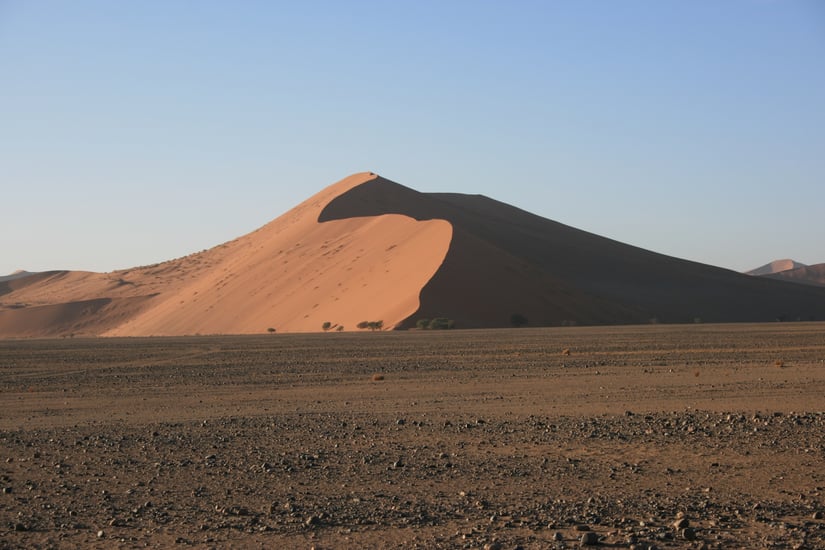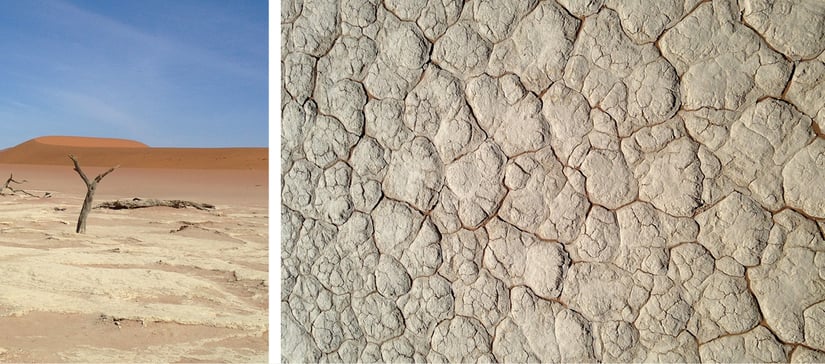 ---
"Next to the dune was a dry lake bed, where the mud had dried in such a way that it created this very unique pattern."
---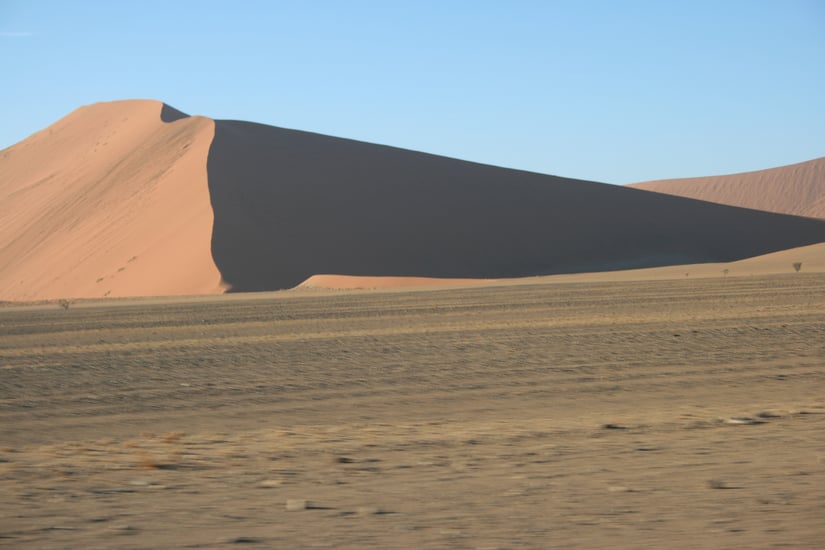 ---
"When the sun hits the ridges of the dunes, one side is lit while the other lies in darkness. It's really remarkable."
---
Is Mitch thinking of incorporating these beautiful desert images into new Stone Yard designs? "We're already working on new textures and finishes that are inspired by our time at the sand dunes," says Mitch.
At the Edge of a Waterfall on the Zambia/Zimbabwe Border
From Namibia, they took a 23-hour bus ride to Zambia, where they hiked and explored the area, and ran into some of the natives. "There are a lot of baboons in the area, and they come right up to you to check you out," says Mitch. "In fact," he laughs, "when we first arrived and the bus driver opened the door, there was a baboon standing there, holding onto the rail!"
"But the most thrilling moment," Mitch continues, "was being on the top of the falls." Victoria Falls, located on the Zambezi River on the border between Zambia and Zimbabwe, is considered one of the natural wonders of the world, with a height of 354 feet (roughly twice the height of Niagara Falls)!
To get to the falls, they walked across slippery rocks and swam against the current of the Zambezi River to a place called Devil's Pool, which was just feet away from the waterfall drop-off. "The guides get in with you and you sit in this rock lip almost at the waterfall's edge. This piece of rock is the only thing preventing you from going over the falls. It was exhilarating!"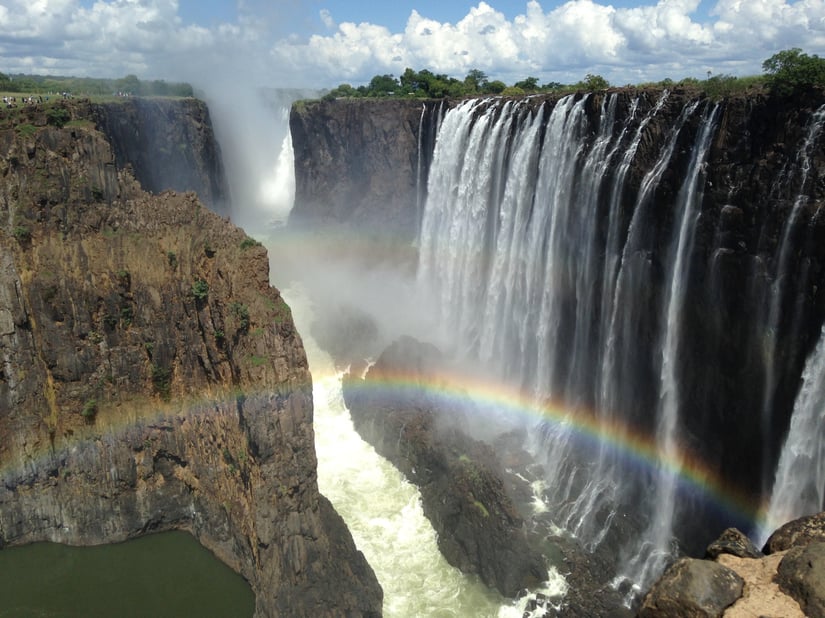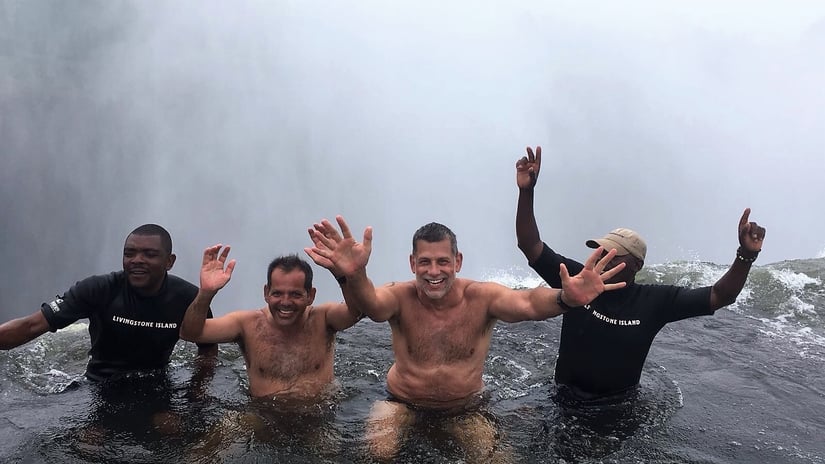 ---
"This piece of rock is the only thing preventing you from going over the falls. It was exhilarating!"
---
On the Road with Elephants and Lions in Botswana
As an animal lover, Mitch was excited for a chance to experience wildlife in their own habitat at the Chobe National Park in Botswana. They spent two nights in the park, sleeping in tents in the African wilderness, and days were spent on a guided safari in a four-wheel drive vehicle. "My favorite were the elephants," Mitch recalls. "When they saw us, they would do their little trumpet sound just as a warning not to get too close—especially the mothers with their babies. But we kept our distance. Watching them, you could really see how animals have personalities and feelings."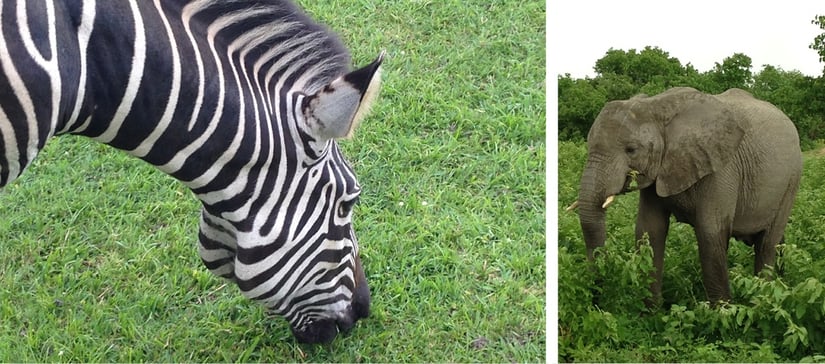 ---
"Watching them, you could really see how animals have personalities and feelings."
---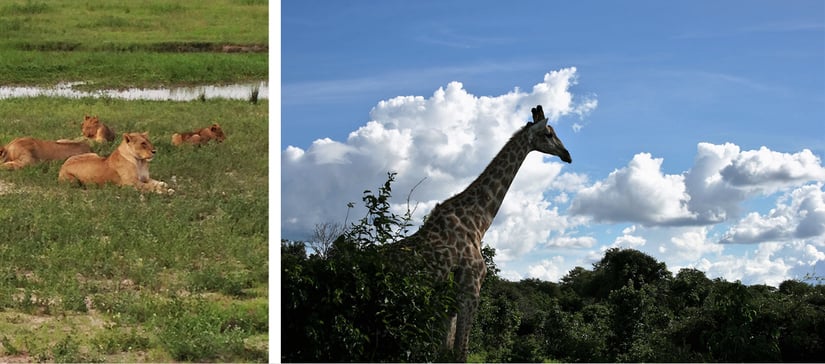 Along with elephants, they got to see zebras, giraffes, jackals, and lions. "On our last night there, we were heading back to camp and came across 15 lions in a pride, probably only about half a city block away from us. It was an amazing sight," Mitch remembers with awe.
Be on the Lookout for New, Africa-Inspired Designs!
Stay tuned for exciting new Stone Yard creations inspired by Mitch's time in the African wilderness! Until then, you can spend a day in our studio with our master sculptor, and watch him sculpt a design reminiscent of the Namibian sand dunes. Or enjoy more travel-inspired design inspiration from Bhutan and Jaipur.
Let's Hear Your Travel-Inspired Design Ideas!
We are always ready to hear your custom design ideas, inspired by your own adventures! Contact us today and we'll help you make them a reality!